Alexandre Dumas - Chicot the Jester
You can listen here for free Chicot the Jester. Genre:
Fictional Biographies & Memoirs
,
Historical Fiction
,
Romance
, . You can also listen to the full version (full text) online without registration and SMS on the site Audiobook-mp3.com or read the summary, preface (abstract), description and read reviews (comments) about the work.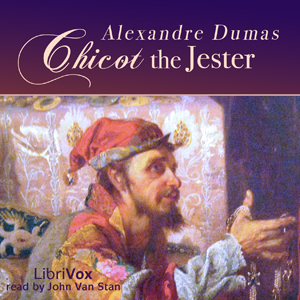 Alexandre Dumas - Chicot the Jester book summary
Chicot the Jester - description and summary of the book. , listen for free online at the digital library site Audiobook-mp3.com
This sequel to Dumas' "Marguerite de Valois" begins four years after the sudden death of King Charles IX and succession of his brother Henry III. The reign of King Henry III was plagued with rebellion and political intrigue due to the War of the Three Henries, where his regency was challenged by King Henry of Navarre (leader of the Huguenots) and Henry I, Duke of Guise (leader of the Catholic League). Dumas weaves two main storylines through this turbulent backdrop: one of the love ignited between le Comte de Bussy and la Dame de Monsoreau, and another of the friendship between King Henry III and his truly unique jester, Chicot (Jean-Antoine d'Anglerais). - Summary by jvanstan
Chicot the Jester listen online for free
Chicot the Jester - listen to the audiobook online for free, author Alexandre Dumas, performer
Similar audiobooks to "Chicot the Jester", Alexandre Dumas
Audiobooks similar to "Chicot the Jester" listen online for free full versions.
Alexandre Dumas listen to all of the author's books in order
Alexandre Dumas - all of the author's books in one place to listen to in order full versions on the Audiobook-mp3 online audio library site.
Alexandre Dumas - Chicot the Jester reviews
Reviews of listeners about the book Chicot the Jester, Read the comments and opinions of people about the product.