Mark Twain - Christian Science
You can listen here for free Christian Science. Genre:
Essays & Short Works
,
Modern
,
Christianity - Other
, . You can also listen to the full version (full text) online without registration and SMS on the site Audiobook-mp3.com or read the summary, preface (abstract), description and read reviews (comments) about the work.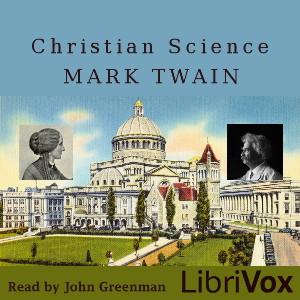 Mark Twain - Christian Science book summary
Christian Science - description and summary of the book. , listen for free online at the digital library site Audiobook-mp3.com
Christian Science is a 1907 collection of essays Mark Twain wrote about Christian Science, beginning with an article that was published in Cosmopolitan in 1899. Although Twain was interested in mental healing and the ideas behind Christian Science, he was hostile towards its founder, Mary Baker Eddy (1821–1910). He called her, according to American writer Caroline Fraser, "[g]rasping, sordid, penurious, famishing for everything she sees—money, power, glory—vain, untruthful, jealous, despotic, arrogant, insolent, pitiless where thinkers and hypnotists are concerned, illiterate, shallow, incapable of reasoning outside of commercial lines, immeasurably selfish." - Summary by Wikipedia, edited by John Greenman
Christian Science listen online for free
Christian Science - listen to the audiobook online for free, author Mark Twain, performer
Similar audiobooks to "Christian Science", Mark Twain
Audiobooks similar to "Christian Science" listen online for free full versions.
Mark Twain listen to all of the author's books in order
Mark Twain - all of the author's books in one place to listen to in order full versions on the Audiobook-mp3 online audio library site.
Mark Twain - Christian Science reviews
Reviews of listeners about the book Christian Science, Read the comments and opinions of people about the product.