Friedrich WIECK - Piano and Song
You can listen here for free Piano and Song. Genre:
*Non-fiction
,
Music
, . You can also listen to the full version (full text) online without registration and SMS on the site Audiobook-mp3.com or read the summary, preface (abstract), description and read reviews (comments) about the work.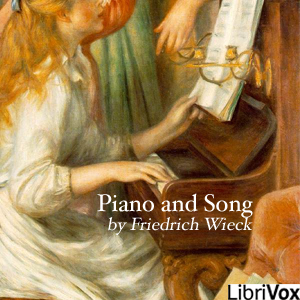 Friedrich WIECK - Piano and Song book summary
Piano and Song - description and summary of the book. , listen for free online at the digital library site Audiobook-mp3.com
This book talks about teaching, learning and performing on the piano in a delightful style, alternating between conversation and instruction. As he was the father of Clara Schumann and Robert Schumann's teacher, need I say more? (Summary by SandraG)
Cast:
Narrator: sparks0314
Dominie: Algy Pug
Emma: Sarah Holtz
Friend: Marty Kris
Bessie: ChyAnne Donnell
Herr Zach: bish
Mrs Zach: Liberty Stump
Stock: Marty Kris
Mr Buffalo: Alan
Mrs Solid: Janet248
Emily: Sandra G
John Spriggins: bish
Mrs Spriggins: SallyMC
Lizzie: Sandra G
Mr. Shepard: Alan
Mrs N.: Nadine Eckert-Boulet
Fatima: Arielle Lipshaw
Mr Feeble: Alan
Mr Gold: bish
Mrs Gold: Liberty Stump
Mr Pious: David Lawrence
Mr Forte: Marty Kris
Mr Silver: David Olson
Piano and Song listen online for free
Piano and Song - listen to the audiobook online for free, author Friedrich WIECK, performer
Similar audiobooks to "Piano and Song", Friedrich WIECK
Audiobooks similar to "Piano and Song" listen online for free full versions.
Friedrich WIECK listen to all of the author's books in order
Friedrich WIECK - all of the author's books in one place to listen to in order full versions on the Audiobook-mp3 online audio library site.
Friedrich WIECK - Piano and Song reviews
Reviews of listeners about the book Piano and Song, Read the comments and opinions of people about the product.