Virginia Woolf - The Common Reader
You can listen here for free The Common Reader. Genre:
Essays & Short Works
, . You can also listen to the full version (full text) online without registration and SMS on the site Audiobook-mp3.com or read the summary, preface (abstract), description and read reviews (comments) about the work.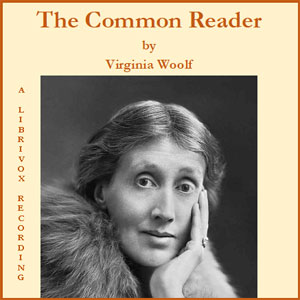 Virginia Woolf - The Common Reader book summary
The Common Reader - description and summary of the book. , listen for free online at the digital library site Audiobook-mp3.com
A collection of essays by Virginia Woolf, some of which originally appeared in the Times Literary Supplement or the Dial, and others were originally published for the first time in this volume.
"Anything that Virginia Woolf may have to say about letters is of more than ordinary interest, for her peculiar intelligence and informed attitude set her somewhat apart. She possesses the happy faculty simultaneously of enjoying and accepting the work of Daniel De Foe and James Joyce, of Joseph Addison and T.S. Eliot, of Jane Austen and Marcel Proust. Many of these essays are excellent examples of that type of writing which reveals the reactions, nuances, twisting and adventuring threads of thought and surmise which spring from the perusal and spiritual acquisition of other work."
Excerpts from the New York Times Book Review of The Common Reader, May 31, 1925
The Common Reader listen online for free
The Common Reader - listen to the audiobook online for free, author Virginia Woolf, performer
Similar audiobooks to "The Common Reader", Virginia Woolf
Audiobooks similar to "The Common Reader" listen online for free full versions.
Virginia Woolf listen to all of the author's books in order
Virginia Woolf - all of the author's books in one place to listen to in order full versions on the Audiobook-mp3 online audio library site.
Virginia Woolf - The Common Reader reviews
Reviews of listeners about the book The Common Reader, Read the comments and opinions of people about the product.