Various - Athenaeum Souvenir
You can listen here for free Athenaeum Souvenir. Genre:
Anthologies
, . You can also listen to the full version (full text) online without registration and SMS on the site Audiobook-mp3.com or read the summary, preface (abstract), description and read reviews (comments) about the work.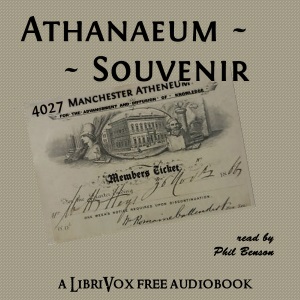 Various - Athenaeum Souvenir book summary
Athenaeum Souvenir - description and summary of the book. , listen for free online at the digital library site Audiobook-mp3.com
The Manchester Athenaeum was founded in 1837 as a society for the "advancement and diffusion of knowledge". This short collection of poems was published to raise money for the society's annual bazaar. The collection included contributions from 'marquee' poets of the time, including Charles Swain and Agnes Strickland, and Thomas Hood provided an entertaining preface on poetry as food for the mind. It also found space for several of the local school of poets, who were determined to show the world that Manchester was not just a centre of industry and trade. In addition to poems by Ner Gardiner, John Bolton Rogerson, Isabella Varley (later Mrs. Linnaeus Banks, author of 'The Manchester Man'), Samuel Bamford, Isabella Caulton and John Critchley Prince, the collection includes Ann Hawkshaw's first published poem and a rare published piece by Jamaican-born Robert Rose, Manchester's 'bard of colour'. - Summary by Phil Benson
Athenaeum Souvenir listen online for free
Athenaeum Souvenir - listen to the audiobook online for free, author Various, performer
Similar audiobooks to "Athenaeum Souvenir", Various
Audiobooks similar to "Athenaeum Souvenir" listen online for free full versions.
Various listen to all of the author's books in order
Various - all of the author's books in one place to listen to in order full versions on the Audiobook-mp3 online audio library site.
Various - Athenaeum Souvenir reviews
Reviews of listeners about the book Athenaeum Souvenir, Read the comments and opinions of people about the product.