TÁHIRIH - An Ode
You can listen here for free An Ode. Genre:
Poetry
,
Elegies & Odes
,
Multi-version (Weekly and Fortnightly poetry)
, . You can also listen to the full version (full text) online without registration and SMS on the site Audiobook-mp3.com or read the summary, preface (abstract), description and read reviews (comments) about the work.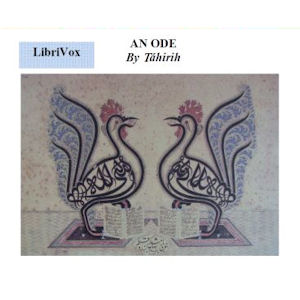 TÁHIRIH - An Ode book summary
An Ode - description and summary of the book. , listen for free online at the digital library site Audiobook-mp3.com
LibriVox volunteers bring you 13 recordings of An Ode by Táhirih (Fátimih Baraghání) (1814/1817 – 1852), Translated by Edward Granville Browne (1862 – 1926). This was the Fortnightly Poetry project for February 7th, 2010.

Fátimih Baraghání (1814/1817 – 1852), also known by the titles of Táhirih (Arabic for "The Pure One") and Qurratu'l-'Ayn (Arabic for "Consolation of the Eyes") was an influential Iranian poet and Bábí heroine from the town of Qazvín. Her legacy is important to Bahá'ís, as well as supporters of women's rights in Iran. In 1844, she became the seventeenth disciple or "Letter of the Living" of the Báb (1819-1850). As the only woman in this initial group of disciples, she is often compared to Mary Magdalene. From June-July 1848, she attended the Conference of Badasht where she appeared without a veil in public (a shocking statement of women's rights) and declared that a new religious dispensation had been inaugurated. Coincidentally, shortly after this, the Seneca Falls Convention (an important women's rights convention) was held in New York on the 19th-20th of July, 1848. She was executed in Tehran in 1852. Before her death, she said that although she would be killed, they could not stop the emancipation of women. Edward Granville Browne described her thus: "The appearance of such a woman as Qurratu'l-'Ayn is in any country and any age a rare phenomenon, but in such a country as Persia it is a prodigy—nay, almost a miracle. Alike in virtue of her marvellous beauty, her rare intellectual gifts, her fervid eloquence her fearless devotion, and her glorious martyrdom, she stands forth incomparable and immortal amidst her countrywomen." This poem is a ghazal composed in the Kámil metre. A ghazal may be understood as a poetic expression of both the pain of loss or separation and the beauty of love in spite of that pain. Browne notes that this poem appears to be addressed to the Báb. Browne made a versified translation of the poem, which first appeared in the J.R.A.S. in 1899. (Summary by Nicholas James Bridgewater)
An Ode listen online for free
An Ode - listen to the audiobook online for free, author TÁHIRIH, performer
Similar audiobooks to "An Ode", TÁHIRIH
Audiobooks similar to "An Ode" listen online for free full versions.
TÁHIRIH listen to all of the author's books in order
TÁHIRIH - all of the author's books in one place to listen to in order full versions on the Audiobook-mp3 online audio library site.
TÁHIRIH - An Ode reviews
Reviews of listeners about the book An Ode, Read the comments and opinions of people about the product.