Gertrude Stein - Roast Beef
You can listen here for free Roast Beef. Genre:
Multi-version (Weekly and Fortnightly poetry)
, . You can also listen to the full version (full text) online without registration and SMS on the site Audiobook-mp3.com or read the summary, preface (abstract), description and read reviews (comments) about the work.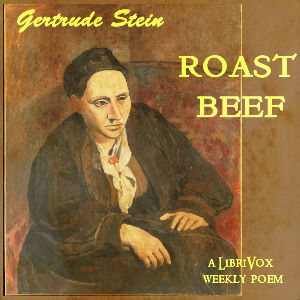 Gertrude Stein - Roast Beef book summary
Roast Beef - description and summary of the book. , listen for free online at the digital library site Audiobook-mp3.com
LibriVox volunteers bring you 11 recordings of Roast Beef by Gertrude Stein.
This was the Weekly Poetry project for January 19, 2020.
------
The last stanza of the prose poem Roastbeef, part of 'Food', taken from Stein's book Tender Buttons (1914), consisting of three sections titled "Objects", "Food", and "Rooms". While the short book consists of multiple poems covering the everyday mundane, Stein's experimental use of language renders the poems unorthodox and their subjects unfamiliar. - Summary by David Lawrence Roastbeef by Gertrude Stein
Roast Beef listen online for free
Roast Beef - listen to the audiobook online for free, author Gertrude Stein, performer
Similar audiobooks to "Roast Beef", Gertrude Stein
Audiobooks similar to "Roast Beef" listen online for free full versions.
Gertrude Stein listen to all of the author's books in order
Gertrude Stein - all of the author's books in one place to listen to in order full versions on the Audiobook-mp3 online audio library site.
Gertrude Stein - Roast Beef reviews
Reviews of listeners about the book Roast Beef, Read the comments and opinions of people about the product.