Susan Coolidge - Christmas
You can listen here for free Christmas. Genre:
Multi-version (Weekly and Fortnightly poetry)
, . You can also listen to the full version (full text) online without registration and SMS on the site Audiobook-mp3.com or read the summary, preface (abstract), description and read reviews (comments) about the work.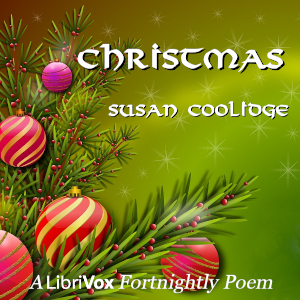 Susan Coolidge - Christmas book summary
Christmas - description and summary of the book. , listen for free online at the digital library site Audiobook-mp3.com
LibriVox volunteers bring you 10 recordings of Christmas by Susan Coolidge.
This was the Fortnightly Poetry project for December 15, 2019.
------
Sarah Chauncey Woolsey was an American children's author who wrote under the pen name Susan Coolidge. Woolsey worked as a nurse during the American Civil War (1861–1865), after which she started to write. She is best known for her classic children's novel What Katy Did (1872). The fictional Carr family was modeled after her own, with Katy Carr inspired by Woolsey herself. - Summary by Wikipedia
Christmas listen online for free
Christmas - listen to the audiobook online for free, author Susan Coolidge, performer
Similar audiobooks to "Christmas", Susan Coolidge
Audiobooks similar to "Christmas" listen online for free full versions.
Susan Coolidge listen to all of the author's books in order
Susan Coolidge - all of the author's books in one place to listen to in order full versions on the Audiobook-mp3 online audio library site.
Susan Coolidge - Christmas reviews
Reviews of listeners about the book Christmas, Read the comments and opinions of people about the product.