W. S. Gilbert - Engaged
You can listen here for free Engaged. Genre:
Comedy
, . You can also listen to the full version (full text) online without registration and SMS on the site Audiobook-mp3.com or read the summary, preface (abstract), description and read reviews (comments) about the work.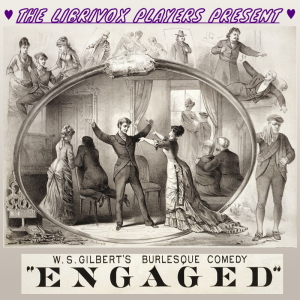 W. S. Gilbert - Engaged book summary
Engaged - description and summary of the book. , listen for free online at the digital library site Audiobook-mp3.com
This comedy is by Gilbert on his own without Sullivan. "Listen to me. You love this girl?" "I love her sir, a'most as weel as I love mysel' !" "Then reflect how you are standing in the way of her prosperity." "Sir, I'm puir on pocket, but I've a rich hairt." - Summary From The Play
Cast list:
Cheviot Hill, a young man of property: Matthew Reece
Belvawney, his friend: skypigeon
Mr. Symperson: Alan Mapstone
Angus Macalister, a Lowland peasant lad: ToddHW
Major McGillicuddy: Craig Franklin
Belinda Treherne: Emmi Kranz
Minnie, Symperson's daughter: Jenn Broda
Mrs. Macfarlane, a Lowland widow: Sonia
Maggie, her daughter, a Lowland lassie: KHand
Parker, Minnie's maid: Lydia
Stage Directions: MichaelMaggs
Editing: ToddHW
Engaged listen online for free
Engaged - listen to the audiobook online for free, author W. S. Gilbert, performer
Similar audiobooks to "Engaged", W. S. Gilbert
Audiobooks similar to "Engaged" listen online for free full versions.
W. S. Gilbert listen to all of the author's books in order
W. S. Gilbert - all of the author's books in one place to listen to in order full versions on the Audiobook-mp3 online audio library site.
W. S. Gilbert - Engaged reviews
Reviews of listeners about the book Engaged, Read the comments and opinions of people about the product.