Thomas West - A Guide to the Lakes
You can listen here for free A Guide to the Lakes. Genre:
Travel & Geography
, . You can also listen to the full version (full text) online without registration and SMS on the site Audiobook-mp3.com or read the summary, preface (abstract), description and read reviews (comments) about the work.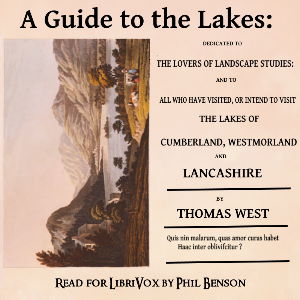 Thomas West - A Guide to the Lakes book summary
A Guide to the Lakes - description and summary of the book. , listen for free online at the digital library site Audiobook-mp3.com
In the late eighteenth century, English writers discovered the landscape, not only in the paintings of Claude Lorrain, Nicolas Poussin and Salvator Rosa, but also as a place to be visited and viewed as if it were a picture. No part of England was more discovered in this period than the Lake District, which was transformed over the course of the next century from a remote region of farmland and inaccessible hills into a wild and romantic landscape of picturesque lake and mountain, described in works such as Thomas West's A guide to the Lakes (1778). West's predecessors – Thomas Gray, Arthur Young, Thomas Pennant and William Hutchinson –had merely passed through the Lakes. West, a resident of the Lakes, took the reader on a tour of the district as a whole, visiting all the lakes, with the sole exception of Wastwater. A devotee of the Claude glass – a convex, tinted mirror in which the landscape appears as it might in a painting by Lorrain – West follows and improves upon Gray's technique of identifying 'stations' from which the landscape would appear at its most picturesque. West's guide remains something of a hybrid, however, with its lengthy antiquarian descriptions of the surrounding towns of Lancaster, Penrith and Kendal. - Summary by Phil Benson
A Guide to the Lakes listen online for free
A Guide to the Lakes - listen to the audiobook online for free, author Thomas West, performer
Similar audiobooks to "A Guide to the Lakes", Thomas West
Audiobooks similar to "A Guide to the Lakes" listen online for free full versions.
Thomas West listen to all of the author's books in order
Thomas West - all of the author's books in one place to listen to in order full versions on the Audiobook-mp3 online audio library site.
Thomas West - A Guide to the Lakes reviews
Reviews of listeners about the book A Guide to the Lakes, Read the comments and opinions of people about the product.