C. J. Dennis - Digger Smith
You can listen here for free Digger Smith. Genre:
Romance
,
War & Military Fiction
,
Narratives
, . You can also listen to the full version (full text) online without registration and SMS on the site Audiobook-mp3.com or read the summary, preface (abstract), description and read reviews (comments) about the work.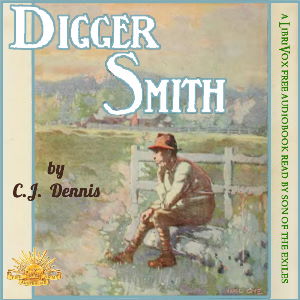 C. J. Dennis - Digger Smith book summary
Digger Smith - description and summary of the book. , listen for free online at the digital library site Audiobook-mp3.com
"Digger Smith" is a series of narrative poems about an Australian soldier coming home in the closing months of the Great War minus a leg and with "ANZAC eyes" ... what a later war would call "The Thousand Yard Stare".
Despite his post-traumatic stress disorder, Digger Smith sets about ministering to everybody's troubles but his own ... his internal conviction that his amputee status will make him seem "half a man" in the eyes of the lady love he left behind when he went off to the War.
Oh Digger Smith, how little faith you have in woman... - Summary by Son of the Exiles
Digger Smith listen online for free
Digger Smith - listen to the audiobook online for free, author C. J. Dennis, performer
Similar audiobooks to "Digger Smith", C. J. Dennis
Audiobooks similar to "Digger Smith" listen online for free full versions.
C. J. Dennis listen to all of the author's books in order
C. J. Dennis - all of the author's books in one place to listen to in order full versions on the Audiobook-mp3 online audio library site.
C. J. Dennis - Digger Smith reviews
Reviews of listeners about the book Digger Smith, Read the comments and opinions of people about the product.