Publius Papinius Statius - Achilleid
You can listen here for free Achilleid. Genre:
Epics
, . You can also listen to the full version (full text) online without registration and SMS on the site Audiobook-mp3.com or read the summary, preface (abstract), description and read reviews (comments) about the work.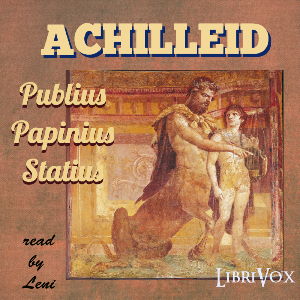 Publius Papinius Statius - Achilleid book summary
Achilleid - description and summary of the book. , listen for free online at the digital library site Audiobook-mp3.com
The Achilleid is the third and unfinished work by the Roman poet Publius Papinius Statius. In its introduction, it promises to present the life of the hero Achilles from his youth as a pupil under the centaur Chiron to his death at Troy. The author died however before writing most of the poem, leaving only one and a half books completed. The part that remains though holds interest for being unusual, bringing an account of the hero's early life and an episode in which his mother, Thetis, disguised him as a girl on the island of Scyros before he joined the Greek expedition against Troy. (Summary by Leni)
Achilleid listen online for free
Achilleid - listen to the audiobook online for free, author Publius Papinius Statius, performer
Similar audiobooks to "Achilleid", Publius Papinius Statius
Audiobooks similar to "Achilleid" listen online for free full versions.
Publius Papinius Statius listen to all of the author's books in order
Publius Papinius Statius - all of the author's books in one place to listen to in order full versions on the Audiobook-mp3 online audio library site.
Publius Papinius Statius - Achilleid reviews
Reviews of listeners about the book Achilleid, Read the comments and opinions of people about the product.