Jean Racine - Mithridates
You can listen here for free Mithridates. Genre:
Tragedy
, . You can also listen to the full version (full text) online without registration and SMS on the site Audiobook-mp3.com or read the summary, preface (abstract), description and read reviews (comments) about the work.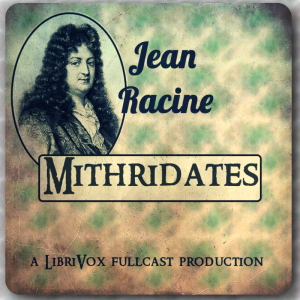 Jean Racine - Mithridates book summary
Mithridates - description and summary of the book. , listen for free online at the digital library site Audiobook-mp3.com
Another tragedy by Racine, based on the historical character and career of Mithridates circa 63 BCE. Closing with sorrow and lamentation and promises of a "search for vengeance". - Summary by ToddHW
Cast list:
Mithridates, King of Pontus and of many other lands: Greg Giordano
Monima, betrothed to Mithridates, and already declared Queen: Sonia
Pharnaces, son of Mithridates: Jenn Broda
Xiphares, son of Mithridates: Tchaikovsky
Arbates, friend of Mithridates, and Governor of Nymphaeum: ToddHW
Phoedima, Friend of Monima: WendyKatzHiller
Arcas, Servant of Mithridates: Joanna Michal Hoyt
Stage Directions: Alan Mapstone
Editing: ToddHW
Mithridates listen online for free
Mithridates - listen to the audiobook online for free, author Jean Racine, performer
Similar audiobooks to "Mithridates", Jean Racine
Audiobooks similar to "Mithridates" listen online for free full versions.
Jean Racine listen to all of the author's books in order
Jean Racine - all of the author's books in one place to listen to in order full versions on the Audiobook-mp3 online audio library site.
Jean Racine - Mithridates reviews
Reviews of listeners about the book Mithridates, Read the comments and opinions of people about the product.