Percy Bysshe Shelley - The Cenci
You can listen here for free The Cenci. Genre:
Tragedy
, . You can also listen to the full version (full text) online without registration and SMS on the site Audiobook-mp3.com or read the summary, preface (abstract), description and read reviews (comments) about the work.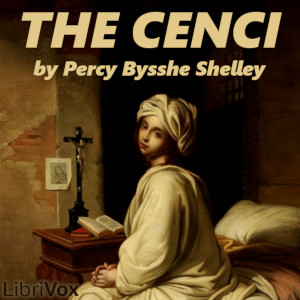 Percy Bysshe Shelley - The Cenci book summary
The Cenci - description and summary of the book. , listen for free online at the digital library site Audiobook-mp3.com
Written in 1819, but not first staged for over hundred years after it was written due to controversial themes of incest and parricide, it was not considered stageable. This tragedy is a true story, set in Rome, 1599, centred around the murder of the tyrant, Count Francesco Cenci, by his tormented daughter, Beatrice. - Summary by Jake Malizia
Cast list:
Count Francesco Cenci Greg Giordano
Lucretia, wife of Cenci and step-mother of his children Sonia
Beatrice, daughter of Cenci Jenn Broda
Orsino, a Prelate ToddHW
Cardinal Camillo Alan Mapstone
First Guest Lynette Caulkins
Second Guest Larry Wilson
Third Guest David Purdy
Andrea, servant to Cenci Jake Malizia
Bernardo, son of Cenci HelloCentral
Giacomo, son of Cenci Adrian Stephens
Servant David Purdy
Guard David Purdy
Officer Alan Mapstone
Marzio, assassin Larry Wilson
Olimpio, assassin Andrew Gaunce
Savella, the Pope's Legate Rob Marland
First Judge Sanarik Moirangthem
Stage Directions Jake Malizia
Editing: Jake Malizia
The Cenci listen online for free
The Cenci - listen to the audiobook online for free, author Percy Bysshe Shelley, performer
Similar audiobooks to "The Cenci", Percy Bysshe Shelley
Audiobooks similar to "The Cenci" listen online for free full versions.
Percy Bysshe Shelley listen to all of the author's books in order
Percy Bysshe Shelley - all of the author's books in one place to listen to in order full versions on the Audiobook-mp3 online audio library site.
Percy Bysshe Shelley - The Cenci reviews
Reviews of listeners about the book The Cenci, Read the comments and opinions of people about the product.