Virgil - Georgics
You can listen here for free Georgics. Genre:
Classics (Greek & Latin Antiquity)
,
Epics
, . You can also listen to the full version (full text) online without registration and SMS on the site Audiobook-mp3.com or read the summary, preface (abstract), description and read reviews (comments) about the work.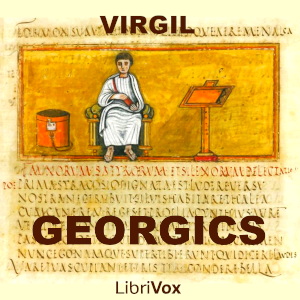 Virgil - Georgics book summary
Georgics - description and summary of the book. , listen for free online at the digital library site Audiobook-mp3.com
Virgil's Georgics are the second of the three major poetic works ascribed to the poet. It was published probably around 29 BC and, as the name suggests, the subject of the poem is agriculture. Divided into four books, it is also the shortest of Virgil's main poetry, with only 2188 hexametric verses. The poem draws on a variety of prior sources and has influenced many later authors from antiquity to the present. - Summary by Leni
Georgics listen online for free
Georgics - listen to the audiobook online for free, author Virgil, performer
Similar audiobooks to "Georgics", Virgil
Audiobooks similar to "Georgics" listen online for free full versions.
Virgil listen to all of the author's books in order
Virgil - all of the author's books in one place to listen to in order full versions on the Audiobook-mp3 online audio library site.
Virgil - Georgics reviews
Reviews of listeners about the book Georgics, Read the comments and opinions of people about the product.