Ford Madox Ford - No More Parades
You can listen here for free No More Parades. Genre:
Literary Fiction
,
War & Military Fiction
, . You can also listen to the full version (full text) online without registration and SMS on the site Audiobook-mp3.com or read the summary, preface (abstract), description and read reviews (comments) about the work.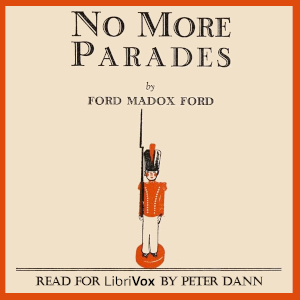 Ford Madox Ford - No More Parades book summary
No More Parades - description and summary of the book. , listen for free online at the digital library site Audiobook-mp3.com
When No More Parades was first published in 1925, a critic in The Observer wrote of the first 100 pages that they "easily surpass in truth, brilliance and subtlety everything else that has yet been written in England about the physical circumstances and moral atmosphere of the war". The second novel in the Parade's End tetralogy, No More Parades places army captain (and former civil servant and statistician) Christopher Tietjens, his beautiful but cruel wife Sylvia, and Tietjens' jealous and tempestuous godfather and commanding officer General Campion in, and just behind, the lines at Rouen, France in 1917, where Christopher finds himself subject not only to physical, but also to mental and moral torments that speak volumes about the society of which he is a part, and which will perhaps surprise many a modern reader/listener. - Summary by Peter Dann
No More Parades listen online for free
No More Parades - listen to the audiobook online for free, author Ford Madox Ford, performer
Similar audiobooks to "No More Parades", Ford Madox Ford
Audiobooks similar to "No More Parades" listen online for free full versions.
Ford Madox Ford listen to all of the author's books in order
Ford Madox Ford - all of the author's books in one place to listen to in order full versions on the Audiobook-mp3 online audio library site.
Ford Madox Ford - No More Parades reviews
Reviews of listeners about the book No More Parades, Read the comments and opinions of people about the product.