Edwin Carty Ranck
(1879 - 1 - The Circus
You can listen here for free The Circus. Genre:
Multi-version (Weekly and Fortnightly poetry)
, . You can also listen to the full version (full text) online without registration and SMS on the site Audiobook-mp3.com or read the summary, preface (abstract), description and read reviews (comments) about the work.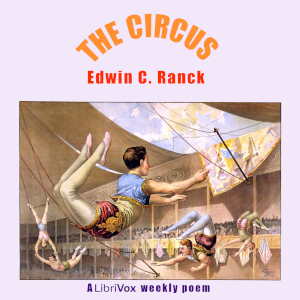 Edwin Carty Ranck
(1879 - 1 - The Circus book summary
The Circus - description and summary of the book. , listen for free online at the digital library site Audiobook-mp3.com
LibriVox volunteers bring you 19 recordings of The Circus by Edwin C Ranck.
This was the Weekly Poetry project for June 14, 2020.
------
This little volume was written for no reason on earth and with no earthly reason. It just simply happened, on the principle, I suppose that "murder will out." Murder is a bad thing and so are nonsense rhymes. There is often a valid excuse for murder; there is none for nonsense rhymes. They seem to be a necessary evil to be classed with smallpox, chicken-pox, yellow fever and other irruptive diseases. They are also on the order of the boomerang and eventually rebound and inflict much suffering on the unlucky verse-slinger. So you see nonsense, like a little learning is a dangerous thing and should be handled with as much care as the shotgun which is never known to be loaded. From the Preface to Poems for Pale People, A Volume of Verse By Edwin C. Ranck.
The Circus listen online for free
The Circus - listen to the audiobook online for free, author Edwin Carty Ranck
(1879 - 1, performer
Similar audiobooks to "The Circus", Edwin Carty Ranck
(1879 - 1
Audiobooks similar to "The Circus" listen online for free full versions.
Edwin Carty Ranck
(1879 - 1 listen to all of the author's books in order
Edwin Carty Ranck (1879 - 1 - all of the author's books in one place to listen to in order full versions on the Audiobook-mp3 online audio library site.
Edwin Carty Ranck
(1879 - 1 - The Circus reviews
Reviews of listeners about the book The Circus, Read the comments and opinions of people about the product.