Sara Coleridge - Phantasmion
You can listen here for free Phantasmion. Genre:
Myths
,
Legends & Fairy Tales
, . You can also listen to the full version (full text) online without registration and SMS on the site Audiobook-mp3.com or read the summary, preface (abstract), description and read reviews (comments) about the work.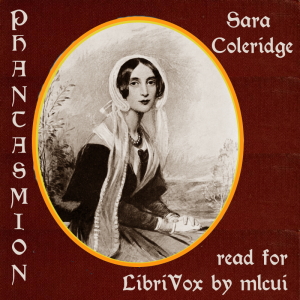 Sara Coleridge - Phantasmion book summary
Phantasmion - description and summary of the book. , listen for free online at the digital library site Audiobook-mp3.com
In 1837 came Phantasmion, a Fairy Tale, Sara Coleridge's longest original work, described by critic Mike Ashley as "the first fairytale novel written in English". Historian of literature Dennis Butts describes Phantasmion as a "remarkable pioneering fantasy" and "an extraordinary monument to her talent". The songs in Phantasmion were much admired at the time by Leigh Hunt and other critics. Some of them, such as "Sylvan Stag" and "One Face Alone", are extremely graceful and musical, and the whole fairy tale is noticeable for the beauty of the story and the richness of its language. Some historians of the fantasy genre believe Phantasmion may have influenced the work of George MacDonald. - Summary by Wikipedia
Phantasmion listen online for free
Phantasmion - listen to the audiobook online for free, author Sara Coleridge, performer
Similar audiobooks to "Phantasmion", Sara Coleridge
Audiobooks similar to "Phantasmion" listen online for free full versions.
Sara Coleridge listen to all of the author's books in order
Sara Coleridge - all of the author's books in one place to listen to in order full versions on the Audiobook-mp3 online audio library site.
Sara Coleridge - Phantasmion reviews
Reviews of listeners about the book Phantasmion, Read the comments and opinions of people about the product.